GMA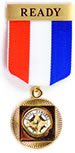 Royal Rangers Gold Medal of Achievement is the highest honor a boy can earn. It is equivalent of the Eagle Scout award in the Scouting program.
The Gold Medal of Achievement (GMA) is a medal of great distinction and honor. It was first offered in 1963 with the first recipient completing its requirements in 1964. In its 40 year history the GMA has been earned by over 5000 boys ages 12 through 17 years of age.
The average age of a boy earning the GMA is approximately 16 years of age. This indicates that a boy has been involved in Royal Rangers for at least 4-5 years before earning his GMA. At this time, slightly least than 1% of the boys involved in Royal Rangers each year earn the GMA. As a result of its challenging merit trail, it is truly a coveted award for any Royal Ranger boy.
You can download an application form from the national office