WELCOME

 TO THE PEN FLORIDA ROYAL RANGERS WEBSITE!
You will find Information for everything going on in the District including News, Training, Event, and Contact information.  Please have a look around. If you would like to know more about what Royal Rangers is click here.
Junior Training
Junior Training Camps coming 
In December Check Below
Get Training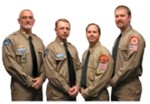 Want to find out more
about training? Go Here
Start an Outpost

Start an Outpost!  Find out more here
RoundUp - Central Division (sections 11 & 12)
Junior Training Event
Greetings Junior Training Partners, we've been busy planning this year's junior training camps.  We've solicited feedback and have some great improvements in store.  Your young man will not want to miss this opportunity to learn leadership for both the local outpost and his personal life.  Here are a few topics we will be incorporating:
Team Building / Patrol Exercises
Developing a Relationship With the Lord
Leading Others to Christ
Traits of a Good Leader
Junior Leadership in the Outpost
Dodgeball/Gaga Ball Competition
and all the Outdoor Skills like Cooking, Ropecraft, Firecraft, Compass and more!      
Where else can you get this kind of 4 day training for only $99?  Get your registration for Ranger Training Camp, Junior Training Camp, or Advanced Junior Training Camp completed by November 18th here:  https://floridarangers.com/training/junior-training/cwrta-registration?id=1
Check-in opens at 9am on Thursday, Dec 7th.
Graduation is at 10:30am Sunday, Dec 10th.  Families are encouraged to attend celebrations.  Lunch will not be included.
Each participant must submit an up-to-date notarized medical form.
Looking forward to seeing your junior leader at camp so he can grow mentally, physically, spiritually, and socially!
--
Pen Florida Junior Training Academy Staff
Joseph Tryon, Don Schaefer, and Paul Keel II
Contact Email:

cdiv@floridarangers.com

Contact Name:

Paul Keel II

Event Start Date:

2023-12-01

Event End Date:

2023-11-05

Location:

Camp Wilderness, Ft Meade FL